IAC wants Berbice Police Divisional Commander replaced
THE Indian Arrival Committee (IAC) has called on the authorities and the Commissioner of Police to immediately replace the 'B' (Berbice) Divisional Commander.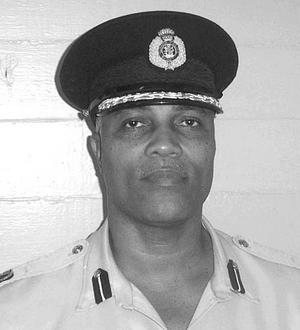 Assistant Commissioner Ivelaw Whittaker

The officer being referred to is Assistant Commissioner Ivelaw Whittaker, who was recently posted to the 'Ancient County' in the reassignment of Divisional Commanders since new Commissioner Winston Felix assumed his post.

An IAC release said it notes "with great concern" that Whittaker "was the subject of a barrage of criticisms for his seeming indifference to the victims of the crime wave when he previously served at 'C' Division (East Coast Demerara)."

The statement said 'C' Division was "singularly unsuccessful in the apprehension of criminal elements, especially those operating out of Buxton" and the former Divisional Head there "is coming under a similar stream of criticisms in Berbice."

Expressing "shock and outrage" at the upsurge in Region Six (East Berbice/Corentyne), the IAC demanded that the Police halt the crime wave there.

The organisation said it is "extremely disturbed" by "the apparent failure of the Guyana Police Force to apprehend the majority of the evil perpetrators of these dastardly criminal deeds."

The IAC statement ended by calling for "speedy steps to curb this upsurge of crime, by apprehending these vicious criminal elements and placing them before the courts."
MAY 15, 2004.