Gay couple creates storm in Botanical Gardens
--- GRO spokesman says marriage illegal
PANDEMONIUM broke out at the Botanical Gardens yesterday afternoon when a virtually uncontrollable crowd stormed into the gardens to see two homosexuals who had earlier exchanged "marriage" vows, take out pictures at the gardens' Kissing Bridge and the Place of the Seven Ponds.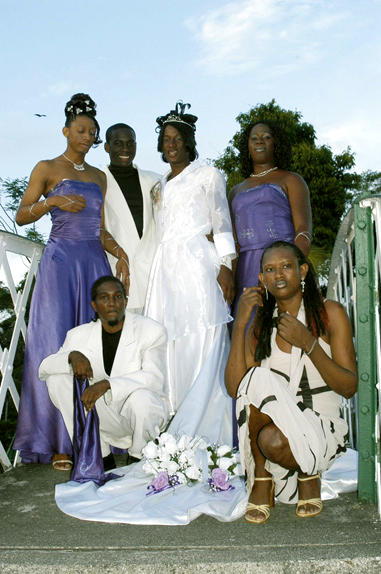 The mammoth crowd streamed into the gardens in anticipation of the 'couple's' arrival and went berserk when a car in which the 'bride' and 'groom' stopped at the Place of the Seven Ponds. The crowd's wild reaction shattered the gardens' peaceful, serene atmosphere.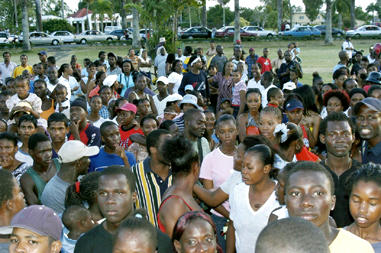 Hundreds chased the white car from the roundabout along the Seven Ponds, pass the Mausoleum and up to the Meteorological office, where the vehicle was forced to stop because of a huge pipe across the street.

As the screaming crowd swarmed around the car, which even had a photographer in the front seat, friends of the two helped to clear the way for the 'couple' to get out - and got the shock of their lives when the 'bride,' decked in white complete with veil, a trail, flowers and heels, stepped out of the vehicle.

Hooked on the hand of the supposed bride was a well-groomed young man in cream suit, a few inches shorter than his 'partner'.


As their peers and photographers cleared a path through the noisy throng, the pair, in their early 20s, made a 'bee line' for the bandstand accompanied by a small 'bridal party'.

Within seconds of stopping at the bandstand the crowd converged, screaming, laughing, some amused, others expressing disgust. While some showed their support and clapped in glee, others shouted 'fire' on the couple.

The Chronicle learned from a Guyana Registration Office spokesman late yesterday that the marriage was illegal, that no license was granted for its consummation.

The spokesman also warned that whoever married the couple risked having his marriage license revoked.

Gays have been clamoring for Parliament to pass a Bill authorizing same-sex marriage, but the National Assembly has so far rejected the lobby.

The gay couple was last seen heading briskly up Regent Street after completing their Botanical Gardens agenda, with a section of the crowd behind them and vehicles conveying the 'bridal party' following.
Tuesday, March 30, 2004

.