Elderly pensioners beaten in second robbery
AN ELDERLY couple was beaten and robbed of a large sum of money by four armed, masked bandits at Grove, East Bank Demerara, on Wednesday night.






Sugrim and Rajmat Soodin, of Lot 'A' Grove Public Road, said they lost G$200,000, US$600 and Cdn $400.


Surgim,70, the older of the two pensioners, said he was in the yard, about 8 p.m., locking up the enclosure where he stacks cooking gas for sale at his small business place, when the quartet emerged from the back and started beating him about the body.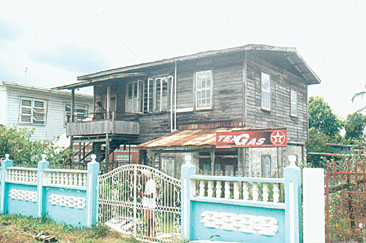 The Soodins' house where the robbery took place.

He said, as he was wrestling with one of the bandits, the other three entered the house where his wife was sitting in a hammock watching television.
Zoreena Re-migrant_wife Deonarine-Persaud

The 67-year-old woman, still visibly traumatised yesterday, said the robbers immediately pulled off her wedding ring from her finger and tied her up.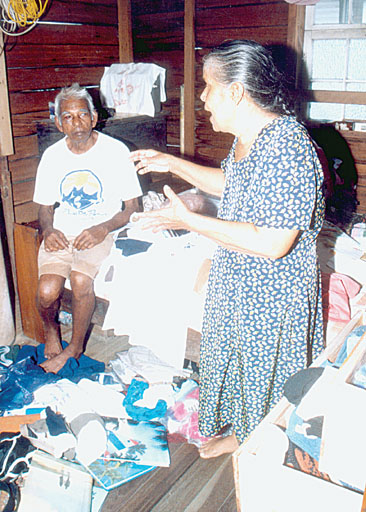 Sugrim and Rajmat Soodin in their ransacked home yesterday.


They put her to lie face down on the kitchen floor, insisting that she hand over money and gold jewellery while torturing her.


She recalled that one bandit, who was with her husband downstairs their one storey, joined the rest inside the house and assaulted him.


He, too, was bound with pieces of curtain material and put to lie beside her while the men ransacked their home, the wife said.


She said one bandit lifted her bodily and took into their bedroom where he forced her to hand over the cash she had been saving to renovate the building in which they live.


Sugrim suffered injuries to his eyes, face, head and ribs and Rajmat had lacerations on her neck and hands.


She told the Chronicle she pleaded with the bandits who wore masks and carried handguns to leave them alone but they continued their assault as her husband tried desperately to fight them off.


The Soodins' next door neighbour, suspecting that something was amiss after telephone calls to them were repeatedly terminated, contacted Police, at Grove station a short distance away, but the bandits had fled by the time the cops arrived.


The victims said it was the second robbery they endured, after all their gold jewels were stolen in the previous one