East Coast terror spreads
-- three more slain
-- 12 arrested in police operations
THREE men have been killed and several others wounded in the fresh wave of terror heavily-armed gunmen have unleashed on the East Coast Demerara.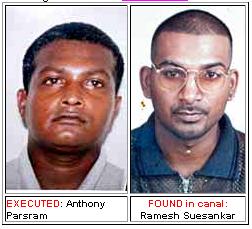 Dead are Ramesh Suesankar, 37, of Lusignan Line Ground, and Anthony Parsram called 'Richard', 28, of Sand Reef, Annandale North, reportedly killed by the same gang of gunmen; and Nigel Amsterdam, 33, of Section `C' Buxton.


The body of Suesankar, a cattle farmer, was fished out of the Lusignan canal around 07:30 hrs yesterday after hours of intense searching by villagers.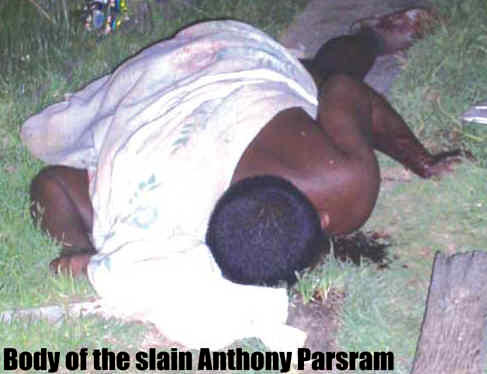 They told the Chronicle yesterday that they had been looking for him since 20:30 hrs Sunday but came up empty-handed.

When the villagers stumbled on his body he was naked, bound at the hands and feet with string and his head covered with a black haversack.

Parsram, a fisherman who lived alone, was executed, shot through the right eye.

Police said Amsterdam, a businessman, was tending to a small shop he operated in his yard when he was shot in the left temple and in the back by gunmen who escaped.

In the Sunday night terror rampage, the gunmen shot at least three others and opened fire on a police patrol responding to the Annandale killing.

Police said two members of the patrol were shot – one in the right shoulder and the other in the right shoulder and left middle finger.

| | |
| --- | --- |
| | |
| TERROR TARGET: some of the houses gunmen attacked at Sand Reef, Annandale North on Sunday night. | |
Police said they arrested 12 persons in several operations in the villages yesterday.


Villagers said Suesankar was ambushed by at least four men armed with "big guns" at about 20:00 hrs after he went to bathe in the canal. He was the only person at home at the time.


His wife Debbie, 32, who is three months pregnant, said she last saw her husband around noon on Sunday, when he visited her mother's home in Good Hope to have lunch.


She said he had promised to return that evening to take her home. Debbie said she was at her mother's for the Hindu custom of tying 'Rakhi' on her brother's hand to show her love for him.


She said her husband was a very quiet person who was always working hard to maintain his family.


His killers ransacked their small shack and clothes and household items were scattered there yesterday.
Relatives were yesterday helping Debbie repack items in several barrels that were left tumbled outside the humble house. The widow said several pieces of jewellery and money were missing.
A grass cutter belonging to her husband was also missing.
Residents said the gunmen forced a lad from the area to fetch the grass cutter to Buxton and then released him. Police were yesterday questioning the boy, villagers said.

| | |
| --- | --- |
| WIDOWED: Debbie Suesankar, the wife of murdered cattle farmer Ramesh outside their home yesterday. | |
Residents said the bandits were probably watching on Sunday when a horse racing competition was held on the road outside Suesankar's home making them believe he had money.


"We had horse racing here and it had plenty beer bottles and so they probably think he rich", one villager remarked.


The bucket that the cattle farmer was using to bathe remained floating in the trench yesterday.


Residents said they are scared to remain in the area at night, and prefer to visit in the daytime to tend to their land and cattle before retreating to spend the night with relatives in other areas.


Villagers said that after killing Suesankar, the gunmen proceeded to Annandale North, where they continued their reign of terror which left Parsram dead.


The first home at Lot 1 Sand Reef, Annandale that was targeted was empty at the time since Sursattie Abdul and her children Amanda, seven, and Imran six, had gone into the housing scheme to look for her husband.


"When I was coming back home, I saw these men standing under the house but I didn't think nothing of it; but then I saw this long, long gun by one of dem foot and I get frightened", Sursattie related yesterday.


She said one of the men called out to her saying he wanted to ask her something.

| | |
| --- | --- |
| | |
| IN SHOCK: Shamdavi Lall, mother of the executed fisherman. | |
The terrified mother said she grabbed her son and started to run. Her daughter who was walking ahead was left behind.


"I couldn't grab me daughter, because she was walking up front and I had to run and leave her."


She fell while trying to escape from the gunmen and said that she then swam over a trench and hid under the bed in a little zinc house on the other side.


"I run, I really run fuh me life", she said, showing the bruise she had on her face from the fall.


Amanda said the gunmen asked her about her mother's whereabouts. The terrified girl said she told them she did not know where her mom was and began crying and begging them to leave her alone.


Her mother said that she heard her daughter crying for her and in the dark, quickly pulled her into the house where they remained huddled together, as gunshots rang out loudly.



After the gunmen left, she returned home to find her house ransacked and a wrist watch missing.

The men then moved to Lot 2 Sand Reef, Annandale where the Lalls reside. The five family members were beaten by the men who stormed their home demanding cash and jewellery.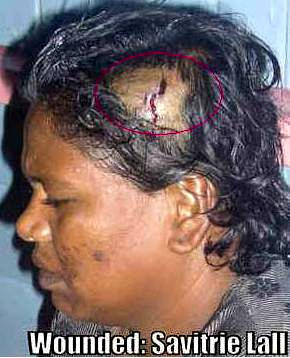 "I keep telling them that we (didn't have) but they still keep saying dat they want."

Lall said she took off her gold earrings and handed these over. The family also handed over $2,000 in cash.

Dissatisfied, the gunmen began demanding more and threatened to shoot her husband, Harrychand if the demand was not met. "I den give dem $3,000 more because them seh that they woulda shoot he", Savitre related.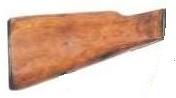 A gun butt

Harrychand was also hit in the head with a gun butt.

| | |
| --- | --- |
| | |
| WOUNDED: Savitre Lall | |
The couple's son Surujpaul, 26, who was sleeping there for the night, was also hit in the head with a gun and left unconscious. His wound required six stitches.


Villagers said the gang members wore `topes' (caps), were dressed in civilian clothing and had long guns looking like AK-47s.


The men then fled through an open window after the ordeal which lasted some 15 minutes. Several footprints were yesterday still visible on a bed that the men used to jump through the window.


They next attacked the home of fisherman Anthony Parsram.


His mother Shamdavi Lall cried uncontrollably yesterday.


Villagers said the gunmen kicked open his door, calling him by his name and demanding cash and jewellery.


He jumped through an open window but the men pursued and shot him in cold blood.


Parsram leaves to mourn his mother, and younger siblings, Fiona 27, Ronnie 24, and Mark 25.


The attacks were the latest on the East Coast and residents, fearful for their lives, are contemplating moving out of the area.


Five gunmen in black clothes on Saturday morning terrorised a Coldingen family, spraying their house with bullets, killing nine year-old Christine Sookra and wounding her brother Ryan, 14.


Sookra was hit in the head by a bullet as the terrified family huddled together in the front bedroom of their Lot 205, Track 'A', Coldingen home.


Twelve days ago, gunmen launched a deadly attack on the Appanna family at Non Pariel. In the attack, a 14-year-old girl hid under the bed while bandits stabbed her father, Davechand, 45, to death. Her mother Hemrajie, 42, was left unconscious from a fractured skull and stab wounds.


Days after, gunmen shot and killed a young policeman, Omani Savory during a police operation in Buxton.