Lusignan massacre one month on…
Victims' relatives still traumatised
(By Mondale Smith and Dale Andrews)
Today marks one month since 11 persons were slain at Lusignan, East Coast Demarara, and the emotions among survivors and relatives are mixed.
Most are in a constant struggle to put their lives back together, and have expressed that, if given the opportunity to leave the country, even if only for a holiday, they would readily take it.
Nightfall for the majority spells nightmares, but one thing is certain: the tragedy has brought the community closer.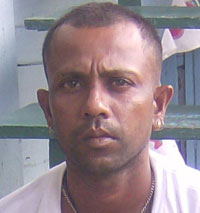 Pic: Vishnu Kishore
"We got a warning system in place. If we see any strange person in the village we does call one another," an elderly villager said while a group of young men engaged in conversation related that things are not the same in the village, as most of the villagers are fearful and feel much safer in numbers.
Fears still abound
"If I can get a house lot out of this area I would move out, or if I get a chance to come out of Guyana I would be more comfortable," said Vishnu Kishore, who lost his mother, father and foster sister in the massacre.
Now the caretaker of Lot 20 Lusignan Pasture, the house in which his parents and foster sister were slain, life for Kishore has forever changed, and when night falls he becomes fearful and leaves the house unattended.
"Even in the day I does sit down and remember them, and like I does can't be alone anymore," he said.
He was the first of his siblings to see the shot-up remains of his family in the house after the shooting, and he added, "Like I does still see them, and like I can't stay here at all. I does try to forget, but the memory can't die away so."
One of his brothers has left the country, but his sister has remained. His family received $300,000 from Government during the funeral period. But while he is grateful for all other assistance received from the various sections of the society, he expressed concern that there is no physical move to construct a police outpost aback of the village.
Killed at that house on January 26 were Rooplall and Dhanrajie Seecharan, as well as their foster daughter, Raywattie.

Mother & daughter want to leave village
One month after losing her husband, Bibi Baksh and her daughter remain surrounded by relatives, but life to them is a recurring nightmare.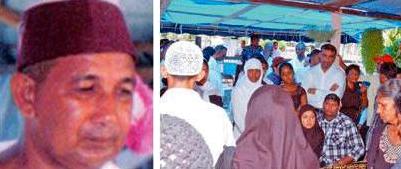 Shalim Baksh
"To me, like it worse now," she told this publication yesterday.
Still jumping out of her sleep screaming, she dreads the day when her relatives will leave her home.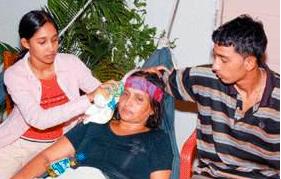 Widow, Bibi Zulaika Baksh (in hammock) with her two children - Shazeed (left) and Shakir (right).
On Sunday, a final religious function is to be held for her husband, Shalim Baksh, then her family will leave.
"Me frighten so bad me just want move from here. Me nah want stay no more, me want go-way," she told Kaieteur News yesterday.
Her mother added that, "She does still wake up hollering 'shootin!' Shootin!' "
Baksh says she will feel safe only when the gunmen are caught and eliminated.
After living in the village for 23 years, she said, "Me glad if de Government can move me out ah this area, cause this here is just like me believe that them can come and kill me and me daughter."
Her daughter, who was smiling at intervals, is happy to be back at school and said that she is getting back into the hang of things. However, she is tired of the many questions that constantly take her back to the gruelling images of her father's shot-up body on the bedroom floor.
She says that she has received some counselling, but she remains fearful and expressed the wish "that they (students) would stop asking me about it."
"It coming back together, but not like before"

The late Shazam Mohammed, aged 22, is still fondly referred to as the 'Golden God' of the Mohammed family. When Kaieteur News visited the home, his mother, Bibi Rakiun Khan, and father, Nadir, sat on the verandah of their Lot 26 home in a reflective mood.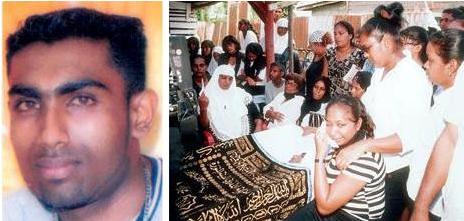 One month after he was shot in both legs, the father -- a farmer -- is no longer wearing a cast but his legs remain bandaged, and like the rest of the family, he wore a smile.
"I don't know that I can go back to farming now, but I'm trying to walk on the legs," the man, who has not earned since being shot, said.

He told this newspaper that his fears remain, but at times he still believes "it is all a bad dream" from which he longs to awaken.
One month on, he said sympathetic visitors still come a-calling, but he noted that his family tries as much as possible not to talk about the loss of their son.
"We are trying to look forward because we don't want to bring back the bad memories, because life got to go on."
"I love Shazam very much, but life must go on. We picking up the pieces, but it not like before," Khan said.
Shazam's mother is grateful for all the support received to date, but she says that she is afraid for her family.
"I hear that they gon grade down the bush at the back, but them ain't do that yet."
The matriarch said, too, that she does not have any nightmares, but she noted that every waking moment brings back memories of the dreadful day. She says that she would like to see more police patrols in the area at nights, and all the gunmen caught.
While this newspaper was in the village yesterday, a police armoured vehicle was visibly patrolling the area.

Bibi Rakiun Khan and husband, Nadir, in the company of their
remaining son.

"God is in charge"
After losing her main breadwinner and two of her children, while praying and hoping for the best for her three remaining children, Gaumattie Thomas, mindful of the loss, is a smiling mother and a tower of strength.
RELATIVES and friends of the Thomas family walk with the coffins to the final place of rest.

"So far, I'm coping with the loss of my two children and my husband, and even though I still have memories, life continues. I'm not afraid of continuing to live in my house, I'm just fearful of the gunmen."
Her baby, Roberto, remains hospitalised, while his older brother, Harold, has been discharged.
But both have expressed reservations about returning to the Lot 30 Lusignan Pasture house where they were shot and lost their father, brother and sister.
The mother said, "Harold is out, but none of them want to stay here anymore."
She said that 19-year-old Harold, who was shot in his arm, visited the home two days ago and immediately began trembling.
He now resides with relatives away from the village.
The mother said that, if she could have afforded it, she would have taken her family out of the country; but given her financial status, she would be comfortable if she gets assistance to construct her fence and to do further renovations on her home.
She says that she has some fears but is comfortable sleeping upstairs where her family was killed and injured.
She gets some support from her church, and is grateful for the ration she receives from time to time.
"God is in charge," she said.
Her gratitude goes out to all who were there for the family, offering prayers and other assistance. She has since replaced the windows and secured the doors of the house.
Her son Mark has abandoned his diving job in Bartica and is now the 'man of the house'. He visits the hospital three times daily, and sleeps over as is necessary to ensure that his baby brother feels safe.
In addition, he also has to be the shoulder when his mother gets sad.
Unemployed, he says he does not have a means of earning to support his mother and injured brothers, but he expressed the fact that he is willing to work if a job becomes available.
He is in the 'valley of decision' considering what to do to make things work for his family now that his father is gone.
"It's not about me anymore. My life is basically for my mom and my two brothers. I don't have time for me anymore," he said.
Happy to be alive, he said he sometimes would lie on his bed and think of what he would have done had he been at home when the gunmen visited his home.
"Imagine, my two brothers don't want to come back here for nothing. I wish I could take my family away from here," he said.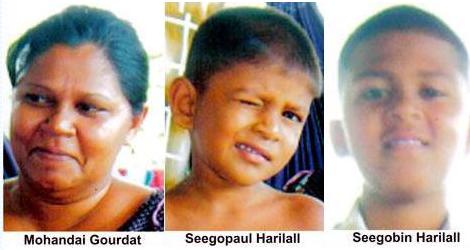 Another victim of the tragedy, Rakumar Harrilall, who lost his wife, Mohandai, and two children -- Seegobind and Seegopaul, was not at home when this newspaper arrived.
Villagers said that Harilall, who was in Trinidad when the incident occurred, would hardly remain in his house for long periods.
Tuesday, February 26, 2008