DNA test shows Bare Root body is taxi driver
Saturday, July 3, 2004
A DNA test has confirmed that the
skeletal remains of a body found
in a cane field behind Bare Root earlier this year are those of kidnapped taxi driver Vivekanand Nandalall.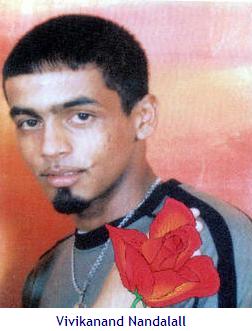 Nandalall, 20, of Enter-prise, East Coast Demerara, was kidnapped in October last year while making a pick-up in Bachelor's Adventure. His car was found abandoned on the Annandale Railway Embankment Road and his family was contacted by the kidnappers who demanded a $1M ransom. His family paid the ransom but he was never freed despite continued pleas.






On March 12, a Guysuco field supervisor found the skeleton, which bore one bullet hole to the skull, about a mile and a half south of the Bachelor's Adventure Squatting Area.

There was no other evidence than that of a lock of hair on the skull which indicated that the deceased was of Indian descent.

Speaking to Stabroek News yesterday, the taxi-driver's mother, Sabitha Nandalall confirmed that they had received the results of the DNA test which was done in Canada via Multi-Tech Laboratory in Guyana. "This morning Multi-Tech called us and at the time we were in Georgetown.... They say come and collect the results."

She said they had expected the results since Saturday but they only arrived on Thursday night.

Sabitha said though she was praying for the day to come when she would know the fate of her only son, the early morning call yesterday made her very nervous.

"When we arrived they gave us the results enclosed in an envelope and later told us that the police had collected their own already," a tearful Sabitha disclosed to this newspaper.

She said the results showed that from all evidence there is a 99.94% probability that the skeleton is that of Nandalall.

An autopsy on the skeleton proved that Nandalall died as a result of gunshot wounds to the head. A .38 warhead was reportedly found in the skull.

"I been really want to know something about he whereabouts, whether he was dead or alive... It is hard son! It is very, very hard to me I can't really explain me feelings," the mother of two said.

"Even though all that happened I still used to believe he was alive, but today my worst fears was confirmed."

She said they had contacted the police on the results and are now awaiting a response from them before funeral arrangements are made. Asked who financed the test, Sabitha disclosed that after they had contacted the police, who said they had no money, representation was made to the government.

She said they had meetings with President Bharrat Jagdeo and from those meetings the decision was taken to have the skeleton taken overseas for the test.

According to Sabitha, the skeleton was taken to Canada on June 12.

"I have no doubt is my son, he was missing so long, we pay ransom for he and still they did not loose he. So what else they would ah keep he for."

Nandalall leaves to mourn his mother, father Kenneth Nandalall and one other sibling.

Sabitha described him as a very disciplined child whose absence had created a huge void.

Albert 'Donny' Andrews, Roger 'Don Dick' Bunbary, Royston Peters, Rondell 'Fineman" Rollins and the now dead Buxtonian Mervin 'Skittle' Archer were the men suspected by the police of being involved in the kidnapping.

While 'Skittle' later turned himself in to the police in the company of a lawyer the other men have been on the run and the police had put their names on a wanted bulletin.

Archer was killed on the Haslington Public Road by a lone gunman earlier this year.

Like Nandalall, two other men, Khemraj Dalchand of Unity, Mahaica and Heeraman Sahadeo of Mon Repos, were also kidnapped during the crime spree and not seen again.