GRA officers, Customs brokers slapped with initial 72 conspiracy, forgery charges
Fidelity Investment scam…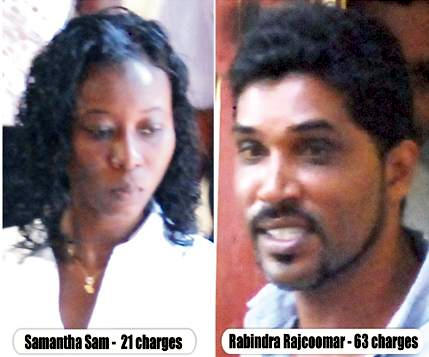 A total of 72 charges were read to 13 employees of the Guyana Revenue Authority and two Customs brokers yesterday when they appeared before Acting Chief Magistrate Melissa Robertson. The charges range from conspiracy and forgery, in relation to the Fidelity investment scam
.


Michelle Matthias, Simone Herod, Roopnarine Ramkishun, Karen Bobb-Semple, Ausya Greenidge, Vickie Sooknanan, Rhonda Gladd, Sadesh Pitamber, Jasoda Mohamed, Anthony Girdhari, Satish Basdeo, Rabindra Ramsarran and Ann Noel, and the two Customs brokers, Samantha Sam and Rabindra Rajcoomar, were not required to plead, since all 72 charges were indictable.
Rabindra Rajcoomar was placed on $600,000 bail, and his colleague, Samantha Sam was placed on $400,000 bail.
Michelle Matthias was also placed on $600,000 bail while the other GRA officers were placed on $200,000 bail each.
Sadesh Pitamber, who was only slapped with one charge, was placed on $95,000 bail. They are expected to return to court on June 24
.


Rabindra Rajcoomar, 42, of 73 'B' Non Pareil was slapped with fifty counts of forgery and conspiracy to defraud. He was charged jointly with Samantha Sam and the Customs officers.
Rajcoomar was also charged separately with 13 counts of forgery of tax invoices and the forgery of Customs Declaration forms.
The charges allege that between June 22, 2007 and October 19, 2007, Rajcoomar with the intent to defraud forged tax invoices and Customs Declaration Forms which purported to show that it was for assorted drinks when it was for beer.
Rajcoomar and Samantha Sam were jointly charged with eight counts of forgery. It was alleged that both defendants between September 14, 2007 and December 17, 2007, with the intent to defraud, forged Customs Declaration Forms and Tax Invoices purporting to show that they were for assorted drinks.
Another 13 counts of forgery allege that Samantha Sam and Rabindra Rajcoomar between October 29, 2007 and November 26, 2007 forged Tax Invoices and Customs Declaration Forms purporting to show that it was for assorted drinks.
Former Customs Officer, Michele Matthias was jointly charged with Samantha Sam on 17 counts of forgery.
It was alleged that Matthias and Sam forged a quantity of Assessment Notices, which purported to show that these were prepared by a valuation officer from the Guyana Revenue Authority Tax Department.
The remainder of the charges was leveled against the 13 Customs officers, one of whom did not appear in court yesterday.
The Customs officers were also charged with conspiracy.


It was alleged that the officers conspired with person or persons unknown to be knowing concerned with the fraudulent evasion of the importation of Polar Beer.
The GRA officers were also jointly charged with Rabindra Rajcoomar and Samantha Sam, again for the fraudulent evasion of the importation of Polar Beer.
The Customs brokers were represented by attorney-at-law Vic Puran, in association with Glen Hanoman.
Attorney-at-law Nigel Hughes represented seven of the Customs officers.
According to the lawyer, all his clients were placed on station bail and were reporting to the police station.
He said that only terrible thing about this case is that when it reaches the preliminary inquiry stage, the matter cannot be reported about. He said "that the public would never know the actual truth and thus his clients are still left with the stain".
The lawyer also stated that a majority of the clients who are charged are single parents and are now out of a job.
The lawyer also commented on the fact that the state picked a Senior Counsel to prosecutor the matter. Attorney-at-law Leslie Sobers represented one of the GRA officers and the others were represented by attorney Glen Hanoman.
Attorney-at-law Vic Puran made an application, objecting to Senior Counsel Bernard De Santos as prosecutor.
According to the lawyer, De Santos, who is a past Government Minister and currently a Member of Parliament on the government side, has strong political ties.
Puran said that De Santos also has close ties with the Director of Fidelity Investments and thus he cannot properly prosecute the matter.
He said that two former Government Ministers are on the Board of Directors of Fidelity Investments and there are seven other shadow investors who have strong political backgrounds.
Attorney-at-law Bernard De Santos rebutted Puran's application on the ground that it had no legal merit.
"I'm sitting on a government bench in Parliament but I am not a member of the People's Progressive Party.
"I have no political baggage, and I reject any grandstanding of the lawyers who are claiming that," De Santos posited.
The prosecutor also asked that their passports be lodged since their lawyers are claiming that they are not flight risks.
"If they are not flight risks, they should lodge their passports."
He said that scam runs from Customs House straight to John Fernandes Shipping Wharf.
Attorney Nigel Hughes interjected and told the court that the only person who was to benefit from the scam was the person who owns the beer.
He stated that Fidelity Investment has since collected Value Added Tax on the "Polar Beer".
De Santos then stated that a sum of money was given to defendants but they falsified the documents to show less money. He said that the defendants kept the remainder and distributed it among themselves.
Following the discovery of the imbroglio where it was alleged that the company paid duties on soft drinks when in fact it was beer in the container, President Bharrat Jagdeo ordered a task force that included the Auditor General, Deodat Sharma, to investigate alleged improprieties between the GRA officers, a broker and Fidelity Investment/Kong Inc.
A report on the investigation was completed and when it was laid in the National Assembly earlier this year it was found that there was a recommendation that GRA take the necessary disciplinary action against 15 of its senior staffers, who were all found to have been complicit in the Fidelity scam.
Wednesday, April 29, 2009