US-revokes-visa Interim Government
The security forces continue to carry out raids in several other areas within the city for the missing high powered weapons. They are also planting 'illegal substances and weapons' on some business places.

Troops in city raid

| | |
| --- | --- |
| SEALED: Military trucks seal off Water Street, Georgetown yesterday morning. (Cullen Bess-Nelson photo) | |
HEAVILY-ARMED soldiers and police swooped on a section of the bustling Water Street, Georgetown shopping district yesterday morning, sealing it off for a search in a military-type operation.
There was no official statement on the precision operation during which security personnel searched the Swiss House Cambio on Water Street as helmeted soldiers and police in battle gear took up strategic positions, guns at the ready.

Huge military trucks were positioned to block off the street as the troops moved in to cordon off the area for the search.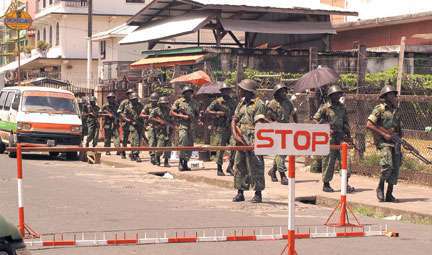 RAID: soldiers deployed in the military-type operation on the busy Water Street shopping area in Georgetown yesterday morning.
(Cullen Bess-Nelson photo)


Police in a statement said they conducted early morning raids in several other areas within the city but did not mention the major Water Street operation.

Police said areas targeted in those searches were Campbellville Housing Scheme, Kitty, Sophia and Middle Road, La Penitence.

Ten houses were searched in those raids and 11 persons, including a female, were held on an arrest warrant for simple larceny, robbery under arms and other offences, police reported.

They said three suitcases with clothing and other items, a television set, a 40 HP Yamaha outboard engine and a red and black motorcycle suspected to have been stolen or unlawfully obtained, were seized.

In the absence of any official word on the major Joint Services operation that targeted Swiss House Cambio, there was speculation that it was related to the search by the Joint Services for the 33 high-powered AK-47 rifles and five pistols reported stolen more than a month ago from a storage bond in the Guyana Defence Forces (GDF) Camp Ayanganna headquarters in Georgetown.

This, however, could not be officially confirmed and Swiss House Cambio managers said they did not know what was behind the search of the business place.
In an operation launched two weeks ago in and around the city, the Joint Services targeted the Blue Iguana nightclub and two other popular city nightspots, among other places.

The Joint Services had said that that operation, stretched over four days, would continue in an effort to recover the AK-47s and pistols. None of the missing guns were found in that exercise and it was not known if any was found in yesterday's major operation.

The joint Police and GDF release last month reported that they set up checkpoints along the lower East Coast Demerara and Georgetown and conducted roadblocks and cordon and search operations aimed at apprehending criminals and seizing illegal firearms and ammunition.

Several persons were charged after that operation for illegal possession of arms and ammunition and other offences and Police last week issued a wanted bulletin for businessman Roger Khan and three others saying they were "wanted for questioning" in connection with arms, ammunition, drugs and other illegal items found in that exercise. (See other story on page one).

The Police and Army had also reported detaining more than 175 motor vehicles, many of them heavily tinted and some with questionable documents.

On March 19, GDF troops and policemen swooped on all of Khan's known businesses in Georgetown – DreamWorks Housing Development in Garnett Street; the Reef Club at 60, Station Street, Kitty, and the Master's Touch Carpet Cleaners at 2nd Street, Bel Air Village. They also searched his private residence in Rotunda Place, D'Aguiar's Park, on the southern fringes of Georgetown and deployed a team to Kaow Island in the Essequibo River, where he also owns a sawmilling operation.

Cordon and searches were also conducted at the popular Buddy's Night Club in Sheriff Street, where a "motor vehicle of interest" to the security forces was seized; the also popular Avalanche Night Club in Sheriff Street; a house at U Grove Housing Scheme, East Bank Demerara, where one male was arrested and a quantity of military uniforms seized; and La Chalet Country Club in Soesdyke, where one male was arrested.

The Joint Services last month said they will conduct several follow-up operations and reiterated the determination to recover the weapons stolen from the Army.

Soldiers and police last week searched a house in the posh Bel Air Gardens in Georgetown where diplomats and others live but there was no official statement on the nature of that operation.

"All information will continue to be treated with the strictest of confidence and no individual or area is off limits," the Joint Services stressed last month.
day, April 02, 2006
.