Taxi driver robs passengers at gunpoint
When Chrishendat Kanhai and his friend, Madia Ramnarine, boarded a taxi on Sheriff Street, the last thing on their mind was that the driver would rob them at gunpoint.
But that is exactly what happened to the two victims at about 0:30 hours yesterday.
The couple had hired the taxi to take them to Eccles, East Bank Demerara.
But instead the driver turned through Stone Avenue, raising the suspicions of the two passengers.
Upon seeing this, both Kanhai and Ramnarine voiced their concern whereupon the driver of the vehicle pulled out a handgun and held up them up.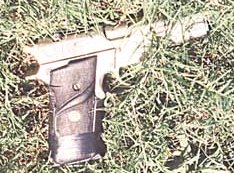 Handgun

The driver was joined by another man who rode up on a bicycle.
They then took away a cell phone and $60,000 from the victims and left the victims stranded after putting them out of the taxi.




But quick response by the police led to the arrest of the two suspects, who were identified by the victims, in a house at Campbell Avenue.
The motor vehicle suspected to have been used PHH 5759 was also recovered.
The two suspects will be charged shortly.
Thursday, May 28, 2009