President honours world's best batsman
Chanderpaul awarded CCH
By Marlon Munroe

| | |
| --- | --- |
| West Indies Captain Chris Gayle congratulates his teammate Shivnarine Chanderpaul. | |
THE Cacique Crown of Honour (CCH), Guyana's third highest award, was conferred on the International Cricket Council's (ICC) cricketer of the year Shivnarine Chanderpaul last night at State House.


At a cocktail reception to welcome the West Indies and England teams, President Bharrat Jagdeo made the announcement. The official presentation will be made on Friday evening at 19:00h at the National Cultural Centre.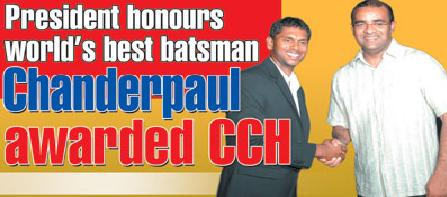 Chanderpaul, who had previously been awarded with the Arrow of Achievement (AA), thanked the President for honouring him with the award. Chanderpaul, who's called 'Tiger', is also Guyana's Sportsman of the Year for 2008.

| | |
| --- | --- |
| President Jagdeo poses with Shivnarine Chanderpaul, his wife and son, at left, along with Operations Manager Phil Neale and Media Manager James Avery (extreme right) of the England team. | |
President Jagdeo, in brief remarks, stated that he was proud of Chanderpaul for being such a role model for aspiring cricketers.


President Jagdeo stated: "He (Chanderpaul) has been a beacon of persistence, dedication and hard work and an example to many of our young people, young cricketers not only in, but around the world".


Chanderpaul, who is revered for his dogged determination and his extensive spells of concentration, made his debut in 1994 against England. To date, he has played 119 matches, amassing 8,502 runs at an average 50.01 with 21 centuries and 52 half centuries, and 32 not out innings.


The 'Tiger' also has the distinction of having three 1,000 minute vigils at the crease without being dismissed -- the highest being over 1,500 minutes. Chanderpaul has been noted to 'grind' opposing bowlers' patience thin, especially if it meant that it ensured a win for the West Indies team.