| | |
| --- | --- |
| Top Athletes! Minister of Culture, Youth and Sport Dr Frank Anthony poses with Guyana's top male and female sports personalities Shivnarine Chanderpaul and Alika Morgan in the arrival lounge of the Cheddi Jagan International Airport Timehri. (Adrian Narine photo) | |
| | |
Chanderpaul was named the International Cricket Council's (ICC) cricketer of the year.
He was also the recipient of the West Indies Players' Association Player-of-the-year award and for the fifth successive year Guyana's Sportsman-of-the-year accolade.

Chanderpaul, who has been the rock of the West Indian batting lineup for the past three years will be awarded on Friday evening at the National Cultural Centre.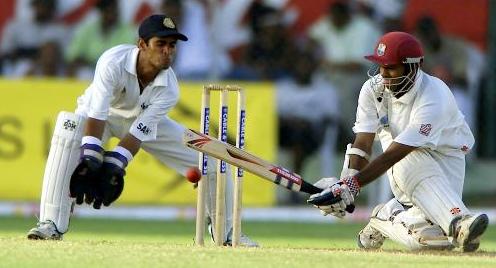 Against India

Chanderpaul, who is revered for his dogged determination and his extensive spells of concentration made his debut in 1994 against England. To date, he has played 119 matches, amassing 8 502 runs at an average of 50.01 with 21 centuries and 52 half-centuries and 32 not-out innings.

'Tiger', as he is called, also has the distinction of having three 1 000-minute vigils at the crease without being dismissed - the highest being over 1 500 minutes. Chanderpaul has been noted to 'grind' opposing bowlers' patience thin especially if it meant ensuring a win for the West Indies team.

Chanderpaul stated that it was an honour to be awarded by the ICC for his achievement. He stated that he has worked very hard over the years for his team and he also feels good that he can please the fans of WI cricket.

In the recently concluded Digicel Test Series Chanderpaul scored 299 runs at an average of 48.66, and his highest score was 104. Poor umpiring decisions also can be used for his poor showing in the tournament.

Meanwhile, Minister of Sport Dr Frank Anthony stated that he was pleased that the ICC recognised Chanderpaul for his great achievement. He went on to state that Guyana and the Government are pleased to have such a sportsman as a great ambassador.

Devi-Sari-Queen Chanderpaul-Sarwan and Ganga
"Chanderpaul has put Guyana on the map and it shows that if people work hard then they can achieve anything and I would therefore like to commend him for his dedication and discipline," the Honourable Minister explained.

The minister was also loud in his praise of another prolific Guyanese batsman Ramnaresh Sarwan who produced some classy knocks in the tournament and in the lone Twenty20 game of the series.

"I'm proud of our Guyanese and West Indies in particular and since Sarwan has been in rich form throughout the tournament I hope he continues to bat the way he is doing at the moment," Minister Anthony said glowingly.

Sarwan has amassed 626 runs at an average of 104.33 with his highest score being 291.
Tuesday, March 17, 2009