Son of Indian Indentured Labourers joins the centenarian club
The son of an Indian indentured labourer has joined the list of Guyanese who have reached 100 years old.

Ships from British India (1838-1917)

Autar, of Big Baiboo Mahaica River on the East Coast of Demerara celebrated the milestone on Saturday.
The centenarian, who still has the use of all his faculties, was the special guest of a religious ceremony yesterday at his grandson's residence, in the Mahaica Creek where he has spent most of his life since marrying his second wife.
A father of five children, countless grandchildren and great-grandchildren, Autar has been a rice, cash crop and cattle farmer ever since he quitted work on the Cane Grove Sugar Estate in the early 1930's.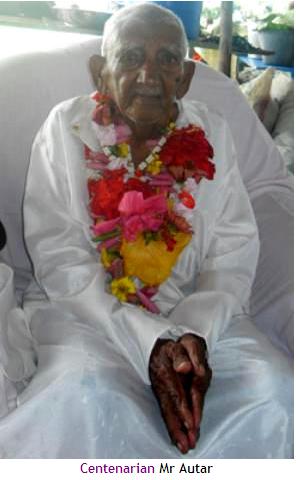 However, he was forced to limit his activities sometime around the late 1970's when age began taking its toll on his overworked body.
He informed this newspaper that he is one of four children of two indentured labourers.
But he never knew his real father, who died when Autar was a child.
From as early as 12, he joined his mother and other siblings on the Melvin sugar estate, in the Cane Grove area, having had to forego a formal education.
There he met his first wife, who subsequently died.
His second wife forced him to move to Big Baiboo in the Mahaica Creek.
"They was two sister and dey father used to do barber man wuk and never used to deh home. So is de one girl used to deh home so me wife had to come dis side and live and me come with she," he told this newspaper.
Autar loves the Mahaica Creek area, although his home is only accessible by boat, after one travels for a few miles on the recently built Mahaica Creek Access Road.
Since he was a cash crop and rice farmer, his diet consisted mainly of the very things that he cultivated, along with lots of fish.
He advised that to live long, one must live the good life and be honest in everything they do.
"God say speak the truth. And try to do good to others. Good follow good. If somebody got something deh and it nah concern you, lef it. Because dah man put it deh fuh he family, and if he go in de morning and somebody gone with am, dah family gone cry. You go end up punishing others. I always tell me family, try to live a decent life, wha you nah plant don't reap," he advised.
Mr. Autar's children described him as a very quiet person who still walks about the sparsely populated area, always with a stick.
Monday, April 27, 2009