SUPPLIES FOR McDOOM FAMILY --- IN the presence of family members, Chief Executive Officer of the Central Islamic Organisation of Guyana (CIOG), Shaikh Moeenul Hack, hands over $150 000 worth of supplies to Shireen Edun, in front of the burnt-out building, in which she and her family lived.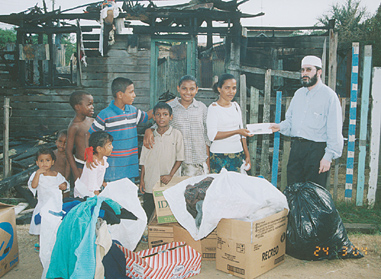 Fire destroyed the McDoom, East Bank Demerara house, on March 23, leaving Shireen and at least 11 others homeless. CIOG is also collaborating with Guyana Sawmills Limited and Food For The Poor, Inc. in contributing $300 000 toward the construction of a home for the family at Diamond, East Bank Demerara.
Tuesday, March 30, 2004

.