Gunmen invade Linden businessman's home
• maid bound with telephone cord

Police are hunting for ten bandits who made off with millions of dollars in cash, jewellery and articles yesterday after invading a Linden businessman's home and tying up the maid.



The robbery occurred at around noon at Spike Land , Lower Kara Kara, at the home of a businessman identified as Baljit, who was out at the time.
Police sources said that some persons who knew the businessman well appeared to be involved in the heist.
According to reports, four employees and the maid were at the house when six men, who were armed with handguns, forced their way in.
They were reportedly joined by four other men.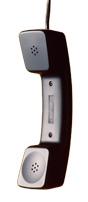 Bandits disconnected the telephone
The bandits disconnected the telephone, then beat and tied the maid before proceeding to ransack the house.

Maid bound with telephone cord
• They eventually fled with $1M in jewellery, $250,000 and an undisclosed sum of articles.
Wednesday 01-11-2006