Beggar abducts, sexually molests boy, 8, in Kitty house

An eight-year-old boy from a city school was yesterday rushed to the Georgetown Public Hospital after telling his mother that he had been sexually assaulted earlier in the day by a "beggar" who would lurk at the city school.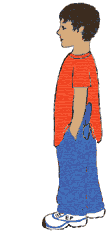 The "beggar" sexually assault the boy.

Kaieteur News understands that the child was forcefully taken from the school by the "beggar," who led him to a desolate house in the Kitty area, where he tied up the child and proceeded to sexually assault him.

After the ordeal, the child walked to his West Ruimveldt home, where his mother observed that he was "acting funny" and questioned him. He told her what had happened earlier.

The mother immediately rushed the child to the hospital, where doctors confirmed that he was sexually assaulted.
Investigations are continuing, as the police are trying desperately to locate the suspect.
And in a separate incident, Police at Bartica are investigating the stabbing of a 29-year-old man from the area. The young man, Lloyd Daniels, was allegedly stabbed in the region of his abdomen by his 14-year-old lover, at around 6:33 am yesterday. The injury caused Daniels's intestines to protrude. According to hospital sources, the man was stabbed after an argument.

He was taken to the Bartica Hospital, but was later transferred because of the severity of his injures.
When this newspaper contacted the Bartica Police, they said that the suspect was still at large and that they were trying to locate her.
Daniels's condition is listed as critical.
Thursday, January 22, 2009