Gunmen rob Pomeroon family
GUNMEN beat a 45-year-old Pomeroon businessman and terrorised his two nieces before escaping with over $500, 000 at around 15: 30 hrs on Friday.

Arnold Kanhai, who trades in Venezuela, was forced to hand over the money to three masked men who invaded his brother's home at Grant Mase King, Lower Pomeroon.
Kanhai's brother was out at the time of the robbery.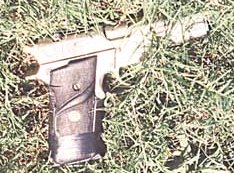 Handguns

According to reports, the businessman was in the yard when three masked men with handguns suddenly pounced on him.
The men took Kanhai upstairs and ordered him and his two nieces, aged 15 and eight, to lie facedown on the floor.
According to reports, the bandits proceeded to beat Kanhai while demanding that he hand over the family's valuables.




They eventually fled with $520,000 which they found in a wardrobe.
No arrests have been made.