Woman found dead in back yard
- throat slashed, two suspects held
Police are investigating the murder of a 33-year-old Good Hope, Mahaica woman whose semi nude body with the throat slit was discovered in her backyard early yesterday morning.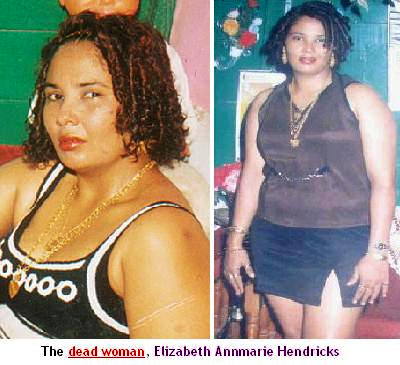 The body of Elizabeth Annmarie Hendricks, was discovered by a cash crop farmer around 06:00 hours in a kitchen garden about 50 feet from her house.
The farmer, who is one of two persons being questioned by the police had gone to water his plants on the plot of land behind Hendricks' house when he made the discovery.
Apart from the slit throat, Hendricks appeared to have been beaten before she was killed, since her face was battered.
Police have not yet established a motive for the brutal slaying, but investigators are working on a theory that Hendricks may have been killed by a man who had threatened to end her life after an altercation with her son.
The man, along with the cash crop farmer, are in police custody assisting with investigations.
Neighbours of the dead woman claimed that they heard nothing to suggest that Hendricks was being killed.
One of Hendricks' neighbours is said to be an old woman who is suffering from poor hearing and sight.
Another neighbour said that it was not until the cash crop farmer raised the alarm that they were aware that something was horribly wrong.
"We didn't hear nothing. If people didn't call we, we wouldn't ah know nothing," the neighbour said.
Kaieteur News understands that Hendricks lived in her house with her six-year-old daughter, Melina. She was due to leave Guyana to join her husband in the USA in two weeks.
Reports are that sometime early yesterday morning, Hendricks went downstairs to use her outdoor lavatory.
It is believed that she was attacked in the toilet since the door was wrenched from its hinges, suggesting that there was in intense struggle.
She was then dragged to the back of her yard where she was brutally murdered.
There are also signs that she struggled with her attacker in the garden.
"She is a fighter. If you see how de mud root up at de back. De person like dey go fuh rape she and she must be recognise dey face," another neighbour opined.
Whoever killed her was not interested in robbing her, since her jewelry was still on her body when it was discovered.
Police recovered Hendricks' cellular phone, one of her slippers and a blouse, a few feet from her body.
The entire episode took place while Hendricks' daughter slept.
"All de time she been sleeping in de house. Is not until de police come dat dey wake she up," a neighbour said.
Neighbours described Hendricks as a very nice person who had gone to live in the village about three years ago.
Relatives of the dead woman were given the horrible news by telephone and immediately journeyed up the East Coast of Demerara.
"I was at work when I got the news that my niece was killed. I was stunned for a minute or two," one of Hendricks' uncles told Kaieteur News.
However, family members were not able to see the body as the police had cordoned off the scene as they combed the area for clues.
They expressed surprise that the neighbours told police that they heard nothing.
"You could see that she was fighting with her attacker and she must have screamed, yet no one heard anything," another relative said.
Apart from her daughter, Hendricks leaves to mourn a 12-year-old son.
Hendricks is the second woman in less than a week to be found dead under unclear circumstances.
Last week a 68 year old woman was found dead in her house in the Grove Housing Scheme
Tuesday, October 12, 2004